FOR THE ORGANISATION
MOBITEACH, a training catalyst for your organization!
Do you have a collection of learning resources that gravitate like free electrons without ever managing to find themselves in a common space of exchange? Have you ever had the feeling that your training content was not circulating and was not shared efficiently among your teams? What about the management and administrative follow-up of your trained employees?
In an organisation, it is not always easy to centralise all the educational assets developed within various teams for the development of employees' skills. MOBITEACH offers you a solution to this issue with a unique environment that centralises resources, information, training sessions and results.
Trainers will be able to mutualise their pedagogical sequences and make them accessible to other trainers, in order to create a real community of training designers sharing the same tool and data. No more loss of information!
MOBITEACH capitalises these same pedagogical resources for the creation of training sessions, and this in the same interface! Facilitators choose and structure their content and then use it directly in the facilitation of their sessions. All quizzes and activities results are stored and their tracking is made easier for the company: it can edit detailed reports of these training activities for analysis and archiving.
No more flying attendance sheets that can easily be lost! MOBITEACH offers an integrated signature system: the participant signs on the screen and his signature is automatically integrated into the sign-off sheet which is permanently stored and can be edited or printed as required. Administrative follow-up becomes child's play!
Finally, MOBITEACH is also the choice to avoid using too many different tools internally! For example, you can integrate e-learning modules into the tool as real pedagogical capsules within your overall training path. MOBITEACH is also an intelligent virtual classroom (no more need for Zoom or Teams!) for exchanging with participants at a distance, and for screen sharing. Efficiency and simplicity!
FOR THE CONTENT CREATOR
MOBITEACH, the ideal tool to create session templates for the content creator!
As an instructional designer, have you ever dreamed of being able to manage everything within the same design area: create session templates that alternate engaging activities that serve different objectives into the course, centralise resources, fine-tune activities and easily archive your sessions?
MOBITEACH offers the content creator, or instructional designer, the ability to create templates for training sessions in which he can orchestrate his activities. These templates, once created, are as many red threads used by the facilitators for the conduct of their sessions.
Within these templates, the designer imports already existing content (e.g. a PowerPoint presentation) into his library, uses already created resources (e.g. quiz questions), or creates new activities directly in the tool.
To boost his training, MOBITEACH provides to the author typologies of stimulating and engaging activities that meet specific educational needs:
Building knowledge (slides, documents sharing, URL, whiteboard, integration of a SCORM module, matching, ordering, hotspots activity…)

Boost interaction, participation and collaboration (quiz, survey, word cloud, post-it…)


Question, evaluate to monitor the acquisition of knowledge (multiple choice question, single choice question, free answer…)
In the creation of these activities, the designer can adjust parameters to adapt the training modalities to his needs, such as for example :

whether or not to make it mandatory to complete an activity


weight the points awarded for each question

choose a navigation mode: freely managed by the learner or guided by the facilitator

define a limited duration for the activities
Thus, the designer creates a rich, dynamic and engaging pedagogical stock within MOBITEACH. If he wishes, he can at any time archive projects that are no longer relevant, and come and get them back if he needs them again.
FOR THE TRAINER-FACILITATOR
MOBITEACH, for a confident and organised facilitator who involves his participants!
What should I do if I have to facilitate a face-to-face training session and I don't have an internet connection? How can I make sure that I centralise my administrative documents and satisfaction questionnaires without loss? How can I efficiently and dynamically use my teaching resources to engage my participants?
The smooth logistical running of a training course is a key element in building the confidence of the facilitator and welcoming the participants in good conditions.
Trainers may be required to conduct their training in face-to-face without having access to an internet network. In order to meet this need for security and reliability, the MOBITEACH Box has been designed to make facilitation possible even without an internet connection, by generating its own Wifi network.
Conversely, in case of confinement, the instructor can carry out his training 100% at a distance with the same pedagogical kit, benefiting from the WEBITEACH functionality.
With MOBITEACH, the instructor manages his training from beginning to end. At the beginning of the session, the tool manages participant sign-in and adapts to unforeseen events: if a participant is added at the last moment, the attendance sheet automatically adapts to integrate him/her into the document. No more lost or reprinted attendance sheets! The facilitator then carries out all his activities before proposing a satisfaction questionnaire at the end of the session, still in the tool! Everything is centralised and secure!
The real-time monitoring of each of his participants allows the facilitator to point out a question where an error was made during a quiz for example. The facilitator can also compel all participants to complete a quiz at a set pace, thus controlling the progress of the participants and providing direct feedback based on everyone's answers.
In his time management, the facilitator has the possibility to punctuate his training day with individual working times: for example, a SCORM e-learning module is launched for consultation from MOBITEACH, and in flipped classroom mode, the facilitator makes the participants react and then debrief, also inviting them to consult other resources placed in the "briefcase". The facilitation becomes rich, captivating and engaging!
FOR THE PARTICIPANT
MOBITEACH, finally an agile, involving and dynamic training for the participant!
Would you like to have the opportunity to follow the same training in face-to-face or at a distance? Would you like a training course where you actively participate and memorise without having difficulty to stay focused for seven hours? Or a training session where the facilitator customises his intervention according to your needs?
MOBITEACH is first of all the agility to attend training courses in face-to-face or at distance. Thus, in front of an exceptional situation or an event preventing you from being physically present, you can switch very easily from one modality to the other, without losing the benefit of attending the training, and in the same conditions of facilitation.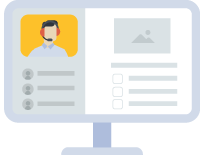 It is also the possibility to participate to a virtual classroom without opening another tool such as Teams or Zoom for example. You see the trainer but also the other participants. You can exchange as in a real room: everything becomes easier, more fluid and intuitive!
MOBITEACH engages you in a dynamic and participative training session, following a sequence that alternates between different activities: completion of a SCORM module to reactivate prerequisites or discover essential information, post-it brainstorming activity, whiteboard presentation of a PowerPoint support, quiz to test yourself, etc. and all this in the same tool! Your attention is maintained throughout the training and your active participation reinforces the memorisation of the messages.
MOBITEACH is also a solution that balances and regulates the interventions and the progression of the group. The facilitator regulates the rhythm of the activities and can at any moment come back in real time on the production of a participant or a group of participants. All profiles, from the most introverted to the most extroverted, will have the opportunity to express themselves.